Therese Tucker
Founder and CEO
Therese founded BlackLine in 2001. She designed the first offerings of BlackLine's products, engineered its transition to the cloud in 2007, and has led the organization in automating the financial close process via the company's flagship Finance Controls and Automation Platform. Under her direction, BlackLine has experienced strong growth since its inception.
Previously, Therese served as Chief Technology Officer for SunGard Treasury Systems. She holds a Bachelor of Science degree in Computer Science and Mathematics from the University of Illinois.
Marc  Huffman
Chief Operating Officer
Marc is a cloud accounting software industry veteran with an exceptional record leading sales teams and driving growth. As COO, Marc oversees worldwide sales and customer-facing organizations as BlackLine continues to scale and to transform the way finance and accounting departments work. Marc came to BlackLine from global cloud ERP and accounting software leader NetSuite where he served as president of Worldwide Sales and Distribution. A seasoned executive in the high-tech industry, he was previously a sales director at Oracle.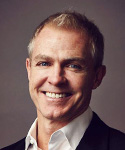 Mark Partin
Chief Financial Officer
Mark ensures BlackLine's finance organization continues to drive growth, capitalizing on the rising demand worldwide for software solutions that generate greater efficiency, financial governance and risk management across all financial operations.
Previously, Mark served as CFO at global Software-as-a-Service (SaaS) company Fiberlink Communications, and at Headhunter.net (now Careerbuilder.com), helping lead its IPO. He holds an MBA from the Harvard Business School.
Karole Morgan-Prager
Chief Legal and Administrative Officer
Karole oversees all of BlackLine's legal functions on a global basis. She has more than 25 years of legal experience, with special expertise in corporate finance and securities matters, investor relations, internal audit, corporate development and public company governance, disclosure and compliance issues.
Prior to joining BlackLine in May 2015, Karole was Vice President of Corporate Development, General Counsel and Corporate Secretary at The McClatchy Company. Karole received her law degree from the UCLA School of Law in 1987, and subsequently joined national law firm Morrison & Foerster, working on corporate securities matters.
Mario Spanicciati
Chief Marketing Officer
Mario is responsible for driving BlackLine's global marketing strategy, developing strategic partnerships and building out key alliances worldwide.
Mario has worked alongside company CEO Therese Tucker since 2004 and headed up the company's EMEA (Europe, Middle East and Africa) operations, launched in London in 2013. Mario also led the company's expansion into France and Germany with the opening of the BlackLine Paris office in 2015 and BlackLine Frankfurt in 2016. Under his direction, the BlackLine Financial Close Suite for SAP® Solutions became an SAP-endorsed business solution, joining the ranks of fewer than 40 other software offerings globally across all industries and categories.
Prior to joining BlackLine, Mario was with Merrill Lynch. He holds a Bachelor of Science degree from Cornell University.
Max Solonski
Chief Security Officer
Max manages information security programs at BlackLine, ensuring the confidentiality, integrity and availability of clients' data, and strict adherence to security best practices and regulatory requirements.
Prior to joining BlackLine, Max managed information security and regulatory compliance at Mattel, as well as the security operations and incident response teams. Previously, he held information security positions at Westfield Properties, Warner Bros. and Disney. Max is a Certified Information Security Professional and a Certified Information Security Manager.
Karen Flathers
Chief Customer Officer
Karen oversees the day-to-day functions of BlackLine's Implementations, Support, Customer Success and Product Training departments.
Prior to joining BlackLine, Karen served as Vice President, Global Field Operations, at Zuora, a provider of SaaS-based billing, commerce and finance management products and also as Vice President, Professional Services. Previously, she was Senior Vice President, Services and Support/General Manager, Software, at Aclara Technologies, a provider of SaaS and on-premise solutions to the utility industry. Karen also has served in various senior professional services roles for SAP America.
Karen holds a Bachelor of Arts degree from Brown University.